Resources

- Publications

Our latest EWCP annual report is out (pdf)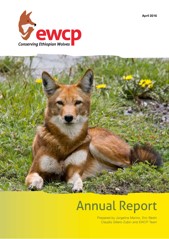 A letter from our Founder & Director
-from EWCP annual report 2016

Wildlife conservation is a global issue as well as a national and local one. The European Union recently published its strategy for wildlife conservation in Africa*. It acknowledges substantial international funding support over the last few decades, but also that Africa has been losing wildlife and wild spaces at an alarming rate in recent years. The problem is 'larger than elephants', as the EU report was titled. Increasing pressure on land and natural resources is leading to habitat loss and the irreversible degradation of entire ecosystems; many communities are exhausting the resources that guarantee their present and future livelihoods. Wildlife conservation is as much about people as it is about saving plants and animals.
In addition to EWCP's key monitoring, disease management, education and awareness components we are increasingly aware of the importance of attaining a more sustainable use of Afroalpine resources. We are promoting conservation practices that deliver value to the farming communities sharing the land with the wolves, and work with regional government agencies equipping and delivering effective protection for a handful of new protected areas. We are invigorated by a new partnership with Fondation Segré to promote biodiversity friendly futures for the people living around Borena Sayint and Arsi Mountains National Parks, and we are also expanding our activities in Simien Mountains National Park thanks to fresh support from the African Wildlife Foundation. We could not keep the work of the EWCP Team going, and also expand our efforts, without the amazing support of the Born Free Foundation in the UK, the Wildlife Conservation Network in the USA, and many other donors than channel their donations through them.
By firmly establishing the wolves as a flagship for Afroalpine biodiversity, the attention of other important donors from the international community could be drawn to the Ethiopian highlands and its many challenges. For instance the Bale Mountains, home to the largest Ethiopian wolf population - badly battered by rabies and canine distemper in the last couple of years-, are considered a Key Landscape for Conservation by the EU report, and should be attracting more support.
We are cautiously hopeful that the conditions are given for politicians and conservationists across Ethiopia to think big and search for new ways and resources to tackle the threats the Afroalpine habitats are facing and limit their devastating effects. Ultimately the wealth of Ethiopia's population is largely dependent on the natural resources of its highlands; safeguarding them must remain a central element in any efforts to reduce poverty and develop the country's infrastructure and services.
Prof Claudio Sillero
* European Commission 2015. LARGER THAN ELEPHANTS. Inputs for an EU strategic approach to wildlife conservation in Africa live link to